What is Fine jewelry?
Fine jewelry is something that flaunts a chic style, luxurious quality and a timeless, classic appeal. In our Fine Jewelry section we feature treasured classic styles as well as modern trends. Many of the items in the section will help you make a personal statement both at work as well as informal settings.
Fine jewelry may be defined as jewelry made out of precious metals such as gold, silver or platinum and set with precious or semi-precious stones. Also, it is not always necessary that the precious metal should be set with diamonds or other stones to be able to qualify as "fine" jewelry. Any jewelry that is precious and is made out of metals or stones that we consider precious and expensive falls into the category of "fine jewelry". The finest gold, silver, platinum and diamonds are chosen to be used in the crafting of fine jewelry.
Designed specially for the discriminating eye, fine jewelry is available in exclusive designs and is immaculately crafted. Bridal jewelry, wedding bands and diamond rings set in gold or platinum are all specimens of fine jewelry that are designed with immense articulation and an eye for detail. Fine jewelry is like an heirloom, a work of timeless beauty and ethereal perfection, which stays in bloom for all times to come.
What is Estate, Vintage or Antique Jewelry?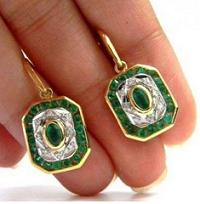 Estate Jewelry is a term used to describe previously owned jewelry and typically refers to jewelry that is of vintage or antique nature. Some of these pieces are rare to find because of the intricate jewelry designs and handmade craftsmanship. The high quality of the materials and artisanship means that the value of many estate items will increase with age. The adage `they don't make them like that anymore` is often true of many of these pieces.
Our estate items are of the previous owner who has decided to sell his or her own items. The terms Estate, Antique and Vintage are used interchangeably. Antique jewelry is 100 years old or older. Some collectors date it to 1920 and older. Vintage jewelry reflects the most distinctive or attractive design elements of a certain period, and the patterns and materials of vintage jewelry are still appealing to many people.
Diamond cut: The diamonds in antique estate diamond jewelry often have the traditional old-mine cut or rose cut instead of the modern cuts, such as round brilliant or princess. The settings for these cuts show less of the diamond than settings for modern cuts.
Gold karat: Contemporary jewelry is usually made of 10-, 14- or 18-karat gold, but older jewelry may feature 12-, 22- or 23-karat gold. Newly manufactured jewelry must be at least 10-karat gold to be sold as gold jewelry in the United States, but older estate pieces may be crafted of 9-karat gold.
What is Designer Jewelry?
Our Designer Jewelry department features jewelry creations from acknowledged designers. A jewelry designer is a person who renders original jewelry creations from creative thought and constructs them as well. Contemporary jewelry designers are often professionals with knowledge of gemology, metalsmithing and rendering designs in special jewelers model wax or metal in order to create a mould from which the actual piece can be manufactured in gold, silver or platinum.
Some jewelry designers are from families which have tended to this craft for generations. For example, since the 1800s, the Liverino family in Italy has hewn delicate coral into beautiful jewelry and cameos. According to family legend, Basilio Liverino-the namesake of the company-began working with coral carving at the tender age of seven. Basilio's passion for coral even impressed the King of those times so much that he was discharged from the Navy so he could continue his art form in his workshop. Five generations of the Liverinos have crafted coral into priceless jewelry since then.
Legal disclaimer: Please note that we at finejewelsetc.com are not an authorized dealer or associate of any of our featured designers, brands or manufacturers. All trademarks, brand names and logos are provided for identification purposes only and are registered trademarks of their respective owners who reserve the right of ownership. The use of any trademark, brand name, or product in our website is not intended to suggest that the company, trademark or brand is affiliated or endorses our website. Instead they are provided for customer information purposes alone.
What is Closeout Jewelry?
Jewelry closeouts are jewelry articles sold at a much reduced final sale, often at prices closer to or even lesser than their intrinsic value.